Greg Gorman
Portraits
September 13th – November 22nd 2014

Berlin-based galerie hiltawsky is happy to announce its next exhibition with 30+ portraits by the American photographer Greg Gorman starting September 13th, 2014. The portraits include images of Hollywood stars such as Sharon Stone, Sophia Loren, Robert De Niro, Leonardo de Caprio, Marlon Brando, Johnny Depp, Jeff Bridges as well as musiclegends like David Bowie, Jim Morrison, Tom Waits, Michael Jackson, Frank Zappa, Philip Glass, Pop-Art Icon Andy Warhol a.a..

Greg Gorman (*1949, Kansas City, Missouri, USA) initially wanted to become a photojournalist, but when in 1968 he photographed Jimi Hendrix at his concert in Kansas City he started his career as a portrait photographer of now 40 years.

Succeeding his Master of Fine Arts in 1968 he started portraying actors and musicians. Many of these iconic black-and-white images became movie posters, covers of CDs or magazines like Life, Newsweek, Vogue and Rolling Stones. Gorman's photographs served more than 20 times the cover of Andy Warhol's Interview.

Parallel to his portraiture Gorman created a remarkable body of work in the area of nude-photography. With his unique style with sharp contrasts, extreme lighting and shadows he concentrates on the grafic of face and body creating a classic aesthetic which combines the timeless beauty of human nature with erotic charisma.
Gorman's images of David Bowie's wife Iman and males starmodels Tony Ward and Mickey Hardt are legendary.

Opening reception
September 12th 2014, 7pm

The artist will be present.






Opening reception
September 12th 2014, 7pm
The artist will be present.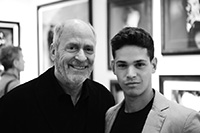 •
Impressions from the opening