Marilyn Monroe - 90th Anniversary.
A Life in Pictures.
November 4th 2016 – January 14th 2017

Starting on November 4, 2016 the Berlin based galerie hiltawsky will present the exhibition Marilyn Monroe. 90th Anniversary. A Life in Pictures. The group exhibition will showcase approx. 70 photographs, including some very rare images.

Among them are an early photograph of a Valentine's Day chocolate advertisement, Norma Jeane's first cover photo for a U.S. magazine (Romance), the legendary "flying skirt" (by Elliott Erwitt and Bernard of Hollywood) for the film "The Seven Year Itch" and virtually unknown, very private photographs of Marilyn Monroe with the notable American writer Carl Sandburg by Arnold Newman and images of the legendary pool scene by Lawrence Schiller.

Marilyn Monroe (*June 1, 1926 in Los Angeles, California as Norma Jeane Mortenson, baptismal name Norma Jeane Baker; † August 5, 1962 in Brentwood, Los Angeles) was a U.S.-American actress, model, singer, and film producer. In the 1950s, she gained international acclaim as a movie star, later becoming an icon of the silver screen and a sex symbol of the 20th century.

Opening reception
November 3rd 2016, 7 pm
Laudatio: Ulrich Rüter




Opening reception
November 3rd 2016, 7 pm
Laudatio: Ulrich Rüter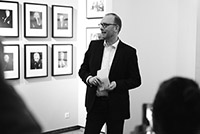 •
Impressions from the opening
Catalogue
A catalogue with more than 100 pages and around 70, mostly full-page illustrations with a text by Andreas J. Mueller, director of the Deutsches Fotomuseum in Leipzig-Markkleeberg will accompany the exhibition.
Price list
•
Preisliste_Marilyn_Monroe.pdf