David Bowie / Masayoshi Sukita: 40th Anniversary of Heroes

May 12th – August 12th 2017
(until September 2nd by appointment)

Opening reception
May 11th 2017, 7 - 10 pm
Masayoshi Sukita is present.


Heroes
© 1977 / 1997 Risky Folio, Inc. Courtesy of The David Bowie Archive ™
Price list
•
Pricelist_Davie_Bowie.pdf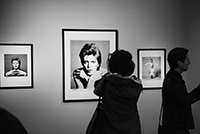 •
Impressions from the opening
Bowie/Sukita in Hamburg
The exhibition
Heroes
will be on display from September 22nd until December 23rd 2017 at
aplanat galerie für fotografie
in Hamburg.
MEET & GREET
Saturday, Nov. 25th, 4 – 5 pm, will be an opportunity to meet Masayoshi Sukita at
aplanat galerie für fotografie
. The exhibition will open at 3 pm.
aplanat galerie für fotografie
Lippmannstrasse 69-71
22769 Hamburg
•
www.aplanat.de